Thrombocytopenia is a common hematologic finding with variable clinical expression. A low platelet count may be the initial manifestation of infections such as HIV and hepatitis C virus or it may reflect the activity of life-threatening disorders such as the thrombotic micro angiopathies. A correct identification of the causes of thrombocytopenia is crucial for the appropriate management of these patients.1
Thrombocytopenia is defined as a platelet count below 150 x 109/L (1,50,000). However, platelet counts between 100 and150 x 109/L do not necessarily indicate disease if they have been stable for more than 6 months,2 and the adoption of a cut off value of 100 x109/L may be more appropriate to identify a pathologic condition.3 The relevance of thrombocytopenia in the individual patient is variable and depends on the clinical presentation, because platelets play an essential role in preserving vessel wall integrity.
Mechanisms of Thrombocytopenia
The major mechanisms for a reduced platelet count are decreased production and increased destruction of platelets. Typical examples of the former are the Bone Marrow failure syndromes (eg, aplastic anaemia, myelodysplastic syndromes, and chemotherapy-induced thrombocytopenia),whereas increased destruction is seen in conditions such as disseminated intravascular coagulation (DIC) and the thrombotic micro angiopathies. Two less common mechanisms are platelets equestration and hemodilution. Platelet sequestration is seen incongestive splenomegaly due to portal hypertension and is characterizedby redistribution of platelets from the circulating pool to the splenic pool.4 Hemodilution is seen in patients who have suffered amassive hemorrhage and have received colloids, crystalloids, and platelet-poor blood products. It is now known that in many cases of thrombocytopenia, such as primary immune thrombocytopenia (ITP) and hepatitis C virus infection, multiple mechanisms may contribute to the development of thrombocytopenia.
Etiologies of Thrombocytopenia
Decreased platelet production
Bone marrow failure (e.g., aplastic anemia, paroxysmal nocturnal hemoglobinuria, Shwachman-Diamond syndrome)
Bone marrow suppression (e.g., from medication, chemotherapy, or irradiation)
Chronic alcohol abuse*
Congenital macrothrombocytopenias (e.g., Alport syndrome, Bernard-Soulier syndrome, Fanconi anemia, platelet-type or Pseudo–von Willebrand disease, Wiskott-Aldrich syndrome)
Infection† _(e.g., Cytomegalovirus, Epstein-Barr virus, Hepatitis C virus, HIV, Mumps, Parvovirus B19, Rickettsia, Rubella, Varicella-zoster virus)
Myelodysplastic syndrome
Neoplastic marrow infiltration
Nutritional deficiencies (vitamin B12 and folate)
Increased platelet consumption
Alloimmune destruction (e.g., post-transfusion, neonatal, post-transplantation)
Autoimmune syndromes (e.g., anti-phospholipid syndrome, systemic lupus erythematosus, sarcoidosis)
Disseminated intravascular coagulation*/severe sepsis*
Drug-induced thrombocytopenia
Heparin-induced thrombocytopenia
Immune thrombocytopenic purpura* Infection† _(e.g., cytomegalovirus, Epstein-Barr virus, hepatitis C virus, HIV, mumps, parvovirus B19, rickettsia, rubella, varicella-zoster virus)
Mechanical destruction (e.g., aortic valve, mechanical valve, extracorporeal bypass)
Preeclampsia/HELLP syndrome
Thrombotic thrombocytopenic purpura/hemolytic uremic syndrome
Sequestration/other
Chronic alcohol abuse*
Dilutional thrombocytopenia (e.g., hemorrhage, excessive crystalloid infusion)
Gestational thrombocytopenia
Hypersplenism (e.g., distributional thrombocytopenia)
Liver disease (e.g., cirrhosis, fibrosis, portal hypertension)
Pseudothrombocytopenia
Pulmonary emboli
Pulmonary hypertension
HELLP = hemolysis, elevated liver enzymes, and low platelet count; HIV = human immunodeficiency virus.

*—More than one mechanism of action.

†—Thrombocytopenia with infection is usually caused by bone marrow suppression. In some cases, the thrombocytopenia is also immune-mediated.
Thrombocytopenia can be classified as emergent (usually requires inpatient management) or non-emergent (outpatient management). Some syndromes may fall in either category based on the severity of thrombocytopenia. A peripheral blood smear can provide diagnostic information on a variety of white blood cell disorders, hemolytic anaemias, and thrombocytopenia.15 A blood smear should be obtained during the initial evaluation.
Emergent Thrombocytopenia
IMMUNE (IDIOPATHIC) THROMBOCYTOPENIC PURPURA
Immune thrombocytopenic purpura is an acquired immune-mediated disorder characterized by isolated thrombocytopenia and the absence of other conditions or agents known to induce thrombocytopenia. The inci¬dence is 100 cases per 1 million persons annually, and approximately 50 percent of cases occur in children.2 Immune thrombocytopenic purpura in children often resolves spontaneously but tends to be more insidious and chronic in adults. The risk of bleeding correlates to the severity of thrombocytopenia. Patients may pres¬ent without symptoms, with minimal bleeding, or with serious hemorrhage (e.g., mucosal, intracranial, gastro¬intestinal, genitourinary). Older patients, patients on antiplatelet therapy, and patients with comorbid condi-tions may have more severe bleeding manifestations.19
THROMBOTIC THROMBOCYTOPENIC PURPURA
Patients presenting with thrombocytopenia and micro¬angiopathic hemolytic anemia should be admitted to the hospital with a presumptive diagnosis of thrombotic thrombocytopenic purpura. Renal manifestations, neu¬rologic changes, and fever also may be present. Severity is reflected by the extent of microvascular aggregation of platelets resulting in ischemia and necrosis of tissue cells. It is fatal without treatment; prompt initiation of plasma exchange is critical. Thrombotic thrombocytopenic pur¬pura occurs primarily in adults. Hemolytic uremic syn¬drome is thrombotic thrombocytopenic purpura found in children presenting with acute renal failure, bloody diarrhea, and/or abdominal pain. Shiga toxin-producing Escherichia coli is the most common causative organism in hemolytic uremic syndrome.26
Nonemergent Thrombocytopenia
DRUG-INDUCED THROMBOCYTOPENIA
One of the most common types of thrombocytopenia in the outpatient setting is drug-induced thrombocytope¬nia. An epidemiologic study from Europe and the United States showed an annual incidence of 10 cases per 1 mil¬lion persons, but numbers could be higher in older persons and in hospitalized patients.29 Drug-induced thrombo¬cytopenia should be suspected in all patients presenting with an acute drop in platelet count. Most patients with drug-induced thrombocytopenia have moderate to severe thrombocytopenia reaching a nadir platelet count of 20 × 103 per μL.8 Physicians should ask specific questions about the use of any medications, including nutritional supplements and over-the-counter remedies. Quinine is a common cause of drug-induced thrombocytopenia and often is missed in the patient history.If drug-induced thrombocytopenia is suspected, the causative medication should be discontinued and the patient's platelet count should be repeated in one week.
INFECTIONS
Infections may cause thrombocytopenia by direct bone marrow suppression or increased peripheral platelet consumption. Common viruses include hepatitis B and C, human immunodeficiency virus, Epstein-Barr, Cytomegalovirus, Parvovirus B19, Varicella-zoster, Rubella, and Mumps. Recent studies found thrombocytopenia in 14 percent of hospitalized patients with Influenza A (H1N1) virus.31 Platelet counts usually recover in patients with a self-limited viral infection. If the patient has a recent travel history, especially to South America or Mexico, dengue fever and malaria should be considered. Other travel-associated infec¬tions, such as typhoid fever, can cause thrombocytopenia.32 Ehrlichiosis, Rocky Mountain spotted fever, and Lyme disease are common tick-borne illnesses that can cause transient thrombocytopenia.33
LIVER DISEASE
Chronic liver disease usually causes persistent thrombocytopenia, and manifests as cirrhosis, fibrosis, and portal hypertension. The most common cause is chronic alcohol abuse; however, other etiologies include infectious hepatitis, drug-induced liver disease, nonalcoholic liver disease, and metabolic disorders. Patients who consume excessive amounts of alcohol can present with varying degrees of liver impairment ranging from asymptomatic fatty liver to end-stage liver disease. Thrombocytopenia results from direct toxic marrow suppression and splenic sequestration. Folic acid deficiency (related to malnutrition) often coexists with alcohol abuse. Abstinence and nutritional replacement often lead to platelet normalization in three to four weeks in the absence of chronic liver disease.34
GESTATIONAL THROMBOCYTOPENIA
Gestational thrombocytopenia is the most common diagnosis of thrombocytopenia in pregnancy, occurring in 8 percent of pregnancies.9,10 Its etiology is thought to be hemodilution and accelerated platelet clearance. Gestational thrombocytopenia is characterized by mild thrombocytopenia, no history of thrombocytopenia, no association of fetal thrombocytopenia, and spontaneous resolution after delivery.35,36 Gestational thrombocytopenia is a benign clinical condition not associated with maternal or neonatal morbidity or mortality.
Algorithm for workup of thrombocytopenia based on observation of the peripheral blood film. TTP/HUS indicates thrombotic thrombocytopenic purpura/hemolytic uremic syndrome.
Adapted from:How to approach thrombocytopenia, Hematology 2012, p 193
DENGUE
Dengue is the most rapidly spreading mosquito-borne viral disease in the world. In the last 50 years, incidence has increased 30-fold with increasing geographic expansion to new countries and, in the present decade, from urban to rural settings. An estimated 50 million dengue infections occur annually and approximately 2.5 billion people live in dengue endemic countries.
Dengue virus (DEN) is a small single-stranded RNA virus comprising four distinct serotypes (DEN-1 to -4). These closely related serotypes of the dengue virus belong to the genus Flavivirus, family Flaviviridae. The various serotypes of the dengue virus are transmitted to humans through the bites of infected Aedes mosquitoes, principally Aedes aegypti. This mosquito is a tropical and subtropical species widely distributed around the world.
After an incubation period of 4–10 days, infection by any of the four virus serotypes can produce a wide spectrum of illness, although most infections are asymptomatic or subclinical. Primary infection is thought to induce lifelong protective immunity to the infecting serotype. Individual risk factors determine the severity of disease and include secondary infection, age, ethnicity and possibly chronic diseases (bronchial asthma, sickle cell anaemia and diabetes mellitus). Young children in particular may be less able than adults to compensatefor capillary leakage and are consequently at greater risk of dengue shock.
Thrombocytopenia may be associated with alterations in megakaryocytopoieses by the infection of human haematopoietic cells and impaired progenitor cell growth, resulting in platelet dysfunction (platelet activation and aggregation), increased destruction or consumption (peripheral sequestration and consumption). Haemorrhage may be a consequence of the thrombocytopenia and associated platelet dysfunction or disseminated intravascular coagulation. In summary, a transient and reversible imbalance of inflammatory mediators, cytokines and chemokines occurs during severe dengue, probably driven by a high early viral burden, and leading to dysfunction of vascular endothelial cells, derangement of the haemocoagulation system then to plasma leakage, shock and bleeding.
Febrile Phase
Patients typically develop high-grade fever suddenly. This acute febrile phase usually lasts 2–7 days and is often accompanied by facial flushing, skin erythema, generalized body ache, myalgia, arthralgia and headache (1). Mild haemorrhagic manifestations like petechiae and mucosal membrane bleeding (e.g. nose and gums) may be seen (3,5). The earliest abnormality in the full blood count is a progressive decrease in total white cell count, which should alert the physician to a high probability of dengue.
Critical Phase
Around the time of defervescence, when the temperature drops to 37.5–38oC or less and remains below this level, usually on days 3–7 of illness, an increase in capillary permeability in parallel with increasing haematocrit levels may occur (6,7). This marks the beginning of the critical phase. The period of clinically significant plasma leakage usually lasts 24–48 hours.
Recovery Phase
If the patient survives the 24–48 hour critical phase, a gradual reabsorption of extravascular compartment fluid takes place in the following 48–72 hours. General well-being improves, appetite returns, gastrointestinal symptoms abate, haemodynamic status stabilizes and diuresis ensues.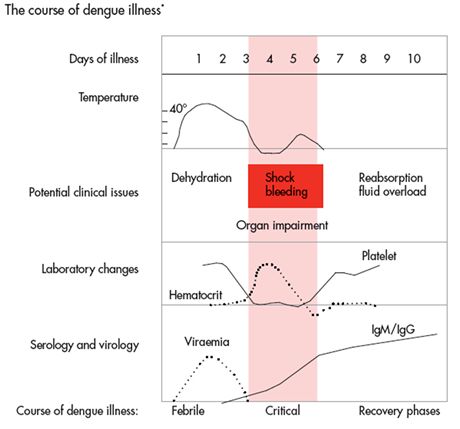 Adapted from: Dengue: Guidelines for diagnosis, treatment, prevention and control – a WHO Publication
Severe Dengue
Severe dengue is defined by one or more of the following: (i) plasma leakage that may lead to shock (dengue shock) and/or fluid accumulation, with or without respiratorydistress, and/or (ii) severe bleeding, and/or (iii) severe organ impairment. As dengue vascular permeability progresses, hypovolaemia worsens and results in shock. It usually takes place around defervescence, usually on day 4 or 5 (range days 3–7) of illness, preceded by the warning signs.