QST
QST is Quinine Sulphate in tablet and Suspension/ Quinine dihydrochloride in injections. Quinine is the chief alkaloid of Cinchona bark.
Mechanism of Action
Quinine is an intra-erythrocytic schizontocide. Quinine kills the asexual stages of P.falciparum, P.vivax, P. malariae& P. ovale. No action against mature gametocytes nor does it kill the pre-erythrocytic stages of malaria parasites.
The mechanisms of its antimalarial actions are thought to involve inhibition of parasite haem detoxification in the food vacuole but are not well understood.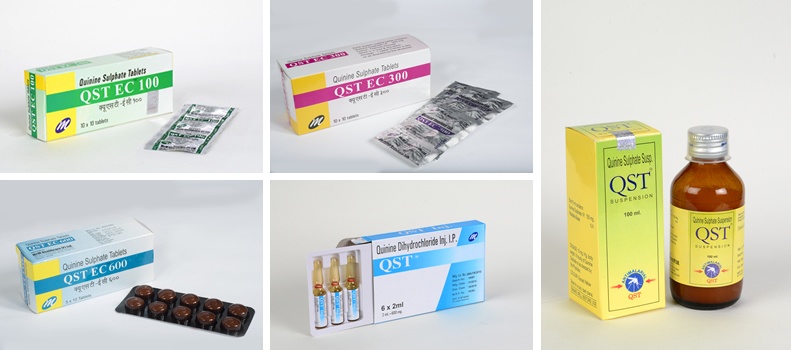 Indications
QST is indicated in malaria caused by – P. vivax, P. falciparum, P. malariae, & P. ovale
QST is also indicated when complication like Cerebral Malaria, Acute Renal Failure, Acute Respiratory Distress Syndrome severe anaemia etc. arise due to Falciparum malaria
Dosage & Administration
Adults – 600 mg Quinine sulphate 8 hourly or 10 mg per kg body weight 8 hourly for 7 days
Children – 10 mg per kg body weight 8 hourly for 7 days – 10 mg per kg body weight 8 hourly for 7 days
Where Intravenous Therapy is needed ?
Conventional Regimen
Quinine dihydrochloride 10 mg/kg body weight 8 hourly for 7 days
Treatment by intravenous infusion
Dose
Day 1
Day 2-7
Infusion Time
Infusion Fluid
Hydration Status
10 mg/kg body weight Quinine dihydro- chloride
Loading Dose 20 mg/kg bodywt followed by 10 mg/kg 8hourly
10 mg/kg 8 hourly
4 hours each
5% dextrose or isotonic saline
Normally Hydrated
10ml/kg
Dehydrated
20ml/kg
Over Hydrated
5 ml/kg
Quinine injections should be given by slow intravenous infusion, with infusion time of 4 hours. Quinine must never be given by intravenous injection, as lethal hypotension may result.
After improvement on intravenous therapy, continue with oral treatment for a total of 7 days.
Where Intravenous Therapy Is Not Possible
Quinine can be given by intramuscular injection into upper and outer quadrant of buttock. If injection cannot be given in the buttock then it has to be given to the anterior thigh. The first dose should be split to each thigh. Undiluted quinine dihydrochloride at a concentration of 300 mg/ml is acidic (pH 2) and painful when given by intramuscular injection, so it has to be diluted to concentrations of 60-100 mg/ml for intramuscular injection.
Hospital Management of Cerebral Malaria
Cerebral malaria is the most severe form of complication of falciparum malaria and if not promptly treated, the condition is invariably fatal. It is one of the acute medical emergency for which immediate medical attention is required. The principles underlying management are to reduce parasitaemia, to control convulsions, to correct fluid-electrolyte balance, to correct hypoglycaemia if present and to provide nursing care.
Side Effects
Cinchonism (characterized in its mild form by tinnitus, impaired high tone hearing, headache, nausea, dizziness and dysphorea and sometimes disturbed vision).
More severe manifestations include vomiting, abdominal pain, diarrhoea and vertigo. Hypersensitivity reactions like urticaria, bronchospasm, flushing of the skin and fever.
Quinine causes an approximately 10% prolongation of the QT Interval.
Cardio toxic effects are less frequent and include conduction disturbances arrhythmias, angina, hypotension leading to cardiac arrest and circulatory failure.
Contraindications
Hypersensitivity to quinine
Glucose-6-phosphate dehydrogenase (G-6-PD) deficiency. Optic neuritis , Tinnitus
Pregnancy
Quinine medication in pregnant women is likely to provoke marked hypoglycaemia, this calls for regular monitoring of blood glucose levels.
The anitmalarials considered safe in the first trimester of pregnancy are quinine, chloroquine, proguanil, pyrimethamine and sulphadoxine – pyrimathanmine. Of these, QUININE remains the most effective and can beused in all trimesters of pregnancy including the first trimester.
Pregnant women are more susceptible to malaria than general population because acquired immunity against malaria in endemic areas is known to decline during pregnancy. Malaria in pregnancy can lead to IUGR and low birth weight babies.
Presentation
Product
Composition
Pack
QST EC 100
Quinine sulphate 100 mg
10 strips of 10 tab.
QST EC 300
Quinine sulphate 300 mg
10 strips of 10 tab.
QST EC 600
Quinine sulphate 600 mg
5 strips of 10 tab.
QST Suspension.
Each 5ml – Quinine Sulphate 150 mg
Bottle of 60ml
Bottle of 100ml
QST 1ml amp.
Quinine dihydrochloride 300mg
5X1ml
QST 2 ml amp.
Quinine dihydrochloride 600mg
6X2ml