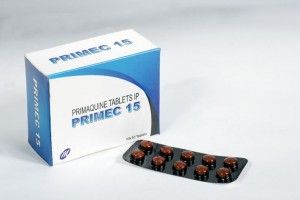 Primec
Each film coated tablet contains:
Primaquine phosphate I.P.
Equivalent to Primaquine 15 mg
Description
Primaquine is a tissue schizontocide unlike the other antimalarial which act at the erythrocyte level. It is active against pre-erythrocytic and exoerythrocytic forms of Plasmodium vivax, falciparum, malariae and ovale. Primaquine is gametocytocidal too. It acts by interfering with the function of plasmodial DNA.
Pharmacokinetics
Primaquine is well absorbed from the GI tract. Peak plasma concentration is reached in 1 to 3 hours. High concentrations are found in the liver, lungs, brain and skeletal muscles.
Primaquine is rapidly metabolised to a carboxylic acid derivative. Approximately 1% is excreted unchanged in the urine. Plasma half life is 3.7 to 9.6 hours in healthy adults.
Indications
Radical cure of P.vivax malaria
Prevention of relapse of P.vivax malaria
To interrupt the transmission of P.falciparum malaria
Dosage
Radical cure – P.vivax
0.25 mg / kg. bw. Adults 15 mg daily for 14 days following standard antimalarial therapy.
If G6PD is known or suspected – 0.75 mg / kg weekly for 8 weeks.
National Malaria Eradication Programme (NMEP) in India recommends Primaquine therapy for 5 days where as standard literature recommends 14 days therapy.
Gametocytocidal therapy in P. falciparum in endemic areas
0.5 to 0.75 mg/kg bw in a single dose. ( 3 tabs of 15 mg) Repeat the same after 2 weeks
Presentation
Strip of 10 tabs. Box of 10 strips