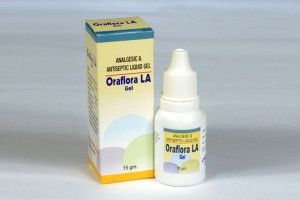 Oraflora LA Gel
Composition
| | |
| --- | --- |
| Choline Salicylate | 8.70% w/w |
| Benzalkonium Chloride Soln. | 0.01%w/w |
| Lignocaine Hydrochloride | 2% w/w |
Choline Salicylate
Choline salicylate belongs to a group of drugs called non-steroidal anti-inflammatory drugs (NSAIDs). It is a salt of acetyl salicylic acid (Aspirin).
Choline salicylate works by blocking the action of a cyclooxygenase which is involved in the production of various substances including prostaglandins. By preventing the formation of prostaglandins, choline salicylate is able to reduce inflammation and the pain associated with it.
Benzalkonium Chloride
An antiseptic agent, which kills or inhibits the growth of pathogenic bacteria and other microorganisms. It acts by altering permeability of cell membrane.
Lignocaine
Lignocaine is a local anesthetic that acts by causing a reversible block to conduction along nerve fibers. It is well absorbed from mucous membranes and is therefore used as a surface anesthetic at concentrations of 2-4%.
Glycerin
Provides a soothing effect
Indications
Painful Mouth Ulcer
Aphthous Ulcer
Periodontal Cavities
Denture Irritation
Packing & Presentation
15 gm gel in a squeeze bottle with long nozzle