Lactomaa Gran.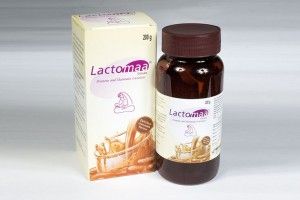 Lactomaa
Lactomaa is a unique formulation with time-tested herbs that support healthy lactation, postpartum hormone balance and mood, in addition to maintaining maternal and infant nutrition.
It is a postpartum maternal tonic. It may be used as a gentle, natural approach to restoration of hormone balance and mood after childbirth. It also provides natural support for recovery and lactation.
Lactomaa ( GRANULES)
Each 100 gm contains
| | |
| --- | --- |
| Shatavari (Asparagus racemosus) | 15 gm |
| Leptadina (Leptadenia reticulata) | 700 mg |
| Harir (Terminalia chebula) | 100 mg |
| Ashwagandha (Withania somnifera) | 25 mg |
| Pipalmool ( Piper longum Rt.) | 1 gm |
| Pathani Lodhara (Symplocos racemosa) | 100 mg |
| Bidarikhand (Pueraria tuberosa) | 100 mg |
Delicious Chocolate Flavoured
Benefits of Lactomaa
Ensures adequate lactation
Increases immunity of the mother as well as child
Improves gastrointestinal motility
Helps mother to cope up with post-partum stress
Indications
Agalactia (Absence of Lactation Post- delivery)
Hypogalactia (Inadequate Lactation Post- delivery)
Delayed Lactation
In Caesarian Cases
In Primipara Delivery
Dosage
Granules: Two measures twice daily i.e. 30 gms in a day, start just after delivery. Can be mixed with Hot Milk, no need to add Sugar. Can be taken till the mother wishes to breast feed the baby.
Presentation:
Granules: Bottle of 200 gms