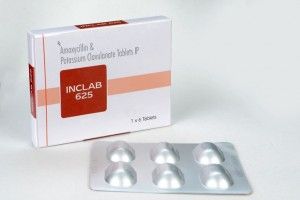 Inclab
Composition:
Inclab 625
Each tablet contains:
| | |
| --- | --- |
| Amoxycillin Trihydrate IP eq. to Amoxycillin | 500mg |
| Potassium Clavulanate diluted eq. to Clavulanic acid | 125mg |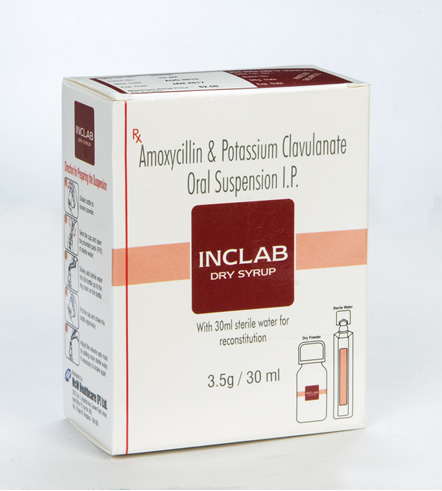 Inclab Dry Syrup
Each 5ml contain:
Amoxycillin Trihydrate IP eq. to Amoxycillin
200mg
Potassium Clavulanate diluted eq. to Clavulanic acid
28.5mg
With 30ml sterile water for reconstitution
Description
Amoxycillin is a Beta –Lactam antibiotic in the amino penicillin family. It is one of the most frequently prescribed antibiotics worldwide for controlling mild to moderate Infections. Amoxycillin is a broad Spectrum antibiotic with bactericidal action against Gram Positive and Gram Negative bacteria. Amoxycillin acts by inhibiting synthesis of bacterial cell wall.
Amoxycillin is effective against the following organisms;
Gram –Positive Organisms
Alpha and Beta Hemolytic Streptococci, Clostridium species except C difficile, Streptococcus pneumonia, Corynebacterium diphtheria, Streptococcus fecalis , Bacillus anthracis, Non beta Lactamase producing Staphylococci.
Gram Negative Organisms
Haemophilus Influenzae, Salmonella species, Shigella species, Neisseria gonorrhoea, N meningitis, Branhamella catarrhalis, Proteus mirabilis, E coli.
Clavulanic Acid is beta-lactamase inhibitor to overcome certain types of antibiotic resistance. It is derived from Streptomyces clavuligerus. It has a betalactam ring that is characteristic of betalactam antibiotics. . Clavulanic acid is betalactamase enzyme Inhibitor.
Clavulanic acid has no antimicrobial activity. Its sole purpose is to prevent the inactivation of betalactam antibiotics by betalactamase enzyme. Since Clavulanic acid has a betalactam ring similar to the one of Amoxycillin, the betalactamase enzyme secreted by bacteria attaches to this ring to spare the one on Amoxycillin. Thus Amoxycillin is able to attack the pathogen and overcome the resistance due to betalactamase produced by these bacteria.
Contraindications
Amoxycillin should not be administered to patients who are hypersensitive to Penicillins.
Indications
Respiratory Tract Infections
Urinary Tract Infections
Acute Exacerbations of chronic Bronchitis
Acute Otitis Media
Acute Sinusitis
Septic Abortions
Community Acquired Pneumonia
Dosage
Adults: One tablet BID.
Children: Children over 2 years;
25/3.6 mg/kg/day (Amoxycillin / Clavulanate ) in mild to moderate infections.
45/6.4 mg/kg/ day (Amoxycillin / Clavulanate ) in severe infections.
Presentation
INCLAB 625 Alu-Alu strips of 6 tabs
INCLAB Dry syrup Bottle of 3.3g to be reconstituted to 30ml