Bacterial vaginosisis the most common cause of vaginal complaints. A condition characterised by a thin homogeneous white discharge, a vaginal pH of greater than 4.5, a positive amine test, and the presence of clue cells microscopically.
There is also a change in vaginal flora from the normal lactobacilli dominant to flora with greatly reduced numbers of lactobacilli and an overgrowth of Gardnerella vaginalis, Mycoplasma hominis and anaerobic bacteria such as peptostreptococci, Prevotella spp, and Mobiluncus spp.
The exact mechanism for the onset of Bacterial vaginosis remains a mystery. It is associated with a reduction in lactobacilli and hydrogen peroxide production, a rise in the vaginal pH and the overgrowth of Bacterial vaginosis associated organisms (see fig). But which of these happens first, and which is the most important? But Cohort study showed that lack of lactobacilli gave a twofold risk of acquiring Bacterial vaginosis and no lactobacilli gave a four fold risk.
Change in pH
The low pH of the vagina is attributable to production of lactic acid by lactobacilli metabolism. Adequate levels of oestrogen play a fundamental role in the trophism of vaginal mucosa. Glycogen derived from the decline of eutrophic vaginal mucosa is fermented by lactobacillus to produce lactic acid with release of hydrogen ion.
In vitro lactobacilli acidify their growth medium to a pH of 3.2–4.8 (that is, similar to normal vaginal pH). At that pH a steady state of equilibrium develops where the acidity becomes auto inhibitory. Anaerobes grow poorly at pH 4.5 or less; the optimum pH for Prevotella spp and G.vaginalis growth is 6–7. In vitro studies show that the concentrations of these bacteria increase with increasing pH, but both are susceptible to low pH.2McClean and McGroarty found that lactic acid and low pH had a greater inhibitory effect on G.vaginalis than hydrogen peroxide.3 A low pH also appears to be important for lactobacillus adherence to the epithelial cells. In vitro testing showed at pH of 4.4, a mean of 5.5 lactobacillus adhered per vaginal cell, compared with 1.4 at pH of 6.2.4
Maintaining Vaginal pH at 4.5
The main goal of therapy here is to keep the vaginal pH at 4.5 or less, in order to prevent overgrowth of pathogens until the normal lactobacillus are re-established and are able to maintain the pH themselves.
Diagnosis of Bacterial Vaginosis
Signs & Symptoms
Bacterial vaginosis is confined to an asymptomatic state in at least half of the cases.
Symptomatic Bacterial vaginosis, on the other hand, is most typically accompanied by foul-smelling, profuse vaginal discharge in the absence of any appreciable signs of inflammation.
Clinical Diagnosis
In 1983, Amsel and others launched clinical diagnostic criteria for Bacterial vaginosis, which have proved particularly useful in clinical practice and hence are still in use today. The clinical diagnosis of Bacterial vaginosis is made if three of the four following signs are present:
An adherent and homogenous grayish-white vaginal discharge;
A vaginal pH exceeding a value of 4.5;
The presence of so-called clue cells – vaginal epithelial cells with such a heavy coating of bacteria that the peripheral borders are obscured – on saline wet mount;
A fishy or amine odor after the addition of a 10% potassium hydroxide solution (positive whiff or sniff test).
The Amsel's criteria, among others, however, have been criticized because two of the four criteria, in particular the appearance of the discharge and the appraisal of the odor are rather subjective and hence may lead to misdiagnosis. By contrast, a pH greater than 4.5 is considered the most sensitive criterion, whereas the presence of clue cells has been considered the single most specific predictor of Bacterial vaginosis. However, even today, diagnosis through Amsel's criteria still remains the best option for in-clinic testing
for Bacterial vaginosis by the clinician.
Gram-stain-based Diagnosis
As an alternative, Gram-stain-based microbiological diagnosis of Bacterial vaginosis has been proposed.However, practitioners are not usually familiar with performing in-clinic Gram-stain-based diagnosis, and hence point-of-care testing will usually rely on clinical criteria according to Amsel, possibly followed by laboratory-based Gram-stain confirmation. For research purposes, however a defined preference for Gram-stain-based diagnosis of Bacterial vaginosis seems to exist.
Nugent's Criteria: Gram stain assessment
| Score | Lactobacillus | Gardenella& Bacteroides | Mobilincus |
| --- | --- | --- | --- |
| 0 | 4+ | 0 | 0 |
| 1 | 3+ | 1+ | 1+ or 2+ |
| 2 | 2+ | 2+ | 3+ or 4+ |
| 4 | 0 | 4+ | |
0-3: Normal, 4-6: Intermediate, 7-10: Bacterial vaginosis
Increasing evidence suggests that G. vaginalis is the key player in the pathogenesis of Bacterial vaginosis and the development of a biofilm may be an essential component of this process, in addition to the gradual overgrowth of resident anaerobic vaginal flora 5. In this model, a cohesive form of G. vaginalis adheres to the vaginal epithelium and then becomes the base to which other species adhere 6. This hypothesis is supported by a study of microbiota on the epithelial surfaces of vaginal biopsy specimens from women with Bacterial vaginosis that showed a biofilm adhered to part or all of the epithelium, and G.vaginalis comprised 90 percent of bacteria in the biofilm, while Atopobium vaginae accounted for most of the remainder 7. Subsequent desquamation of these epithelial cells would result in the classic clue cells diagnostic of the disorder. In contrast, most healthy controls had unstructured accumulations of bacteria within secretions loosely attached to epithelial surfaces.
Although Bacterial vaginosis does not involve the cervix, the disorder may be associated with acute cervicitis (endocervical mucopurulent discharge or easily induced cervical bleeding)8.
Differential diagnosis
In the absence of microscopy, a lack of fishy odor (negative whiff test) makes the diagnosis of Bacterial vaginosisunlikely. Bacterial vaginosis is usually suspected because of high vaginal pH (>4.5). Other causes of increased pH include trichomoniasis, atrophic vaginitis, and desquamative inflammatory vaginitis. These four entities are easily distinguishable by clinical and microscopic features.
Women with Bacterial vaginosis do not have dyspareunia or signs of vaginal inflammation; in contrast, women with atrophic vaginitis, desquamative inflammatory vaginitis, and trichomoniasis usually have these signs and symptoms.
Both atrophic vaginitis and desquamative inflammatory vaginitis are associated with an increased number of parabasal cells on microscopy, which is not observed in women with Bacterial vaginosis.
A large number of polymorphonuclear leukocytes on microscopy are characteristic of desquamative inflammatory vaginitis, trichomoniasis, and atrophic vaginitis with infection, but not Bacterial vaginosis.
Visualization of trichomonads readily makes the diagnosis of trichomoniasis in the setting of an elevated pH, however, in other cases, it is advisable to use more sensitive and specific diagnostic tests to diagnose or exclude trichomoniasis.
| | | | | |
| --- | --- | --- | --- | --- |
| | Normal | Bacterial vaginosis | Yeast | Trichomoniasis |
| Odor | Slightly salty to unnoticeable | Unpleasant, foul, fishy, musty | None | Sometimes foul or fishy |
| Discharge | Clear to slightly milky | Thin milky white or grey, usually increased | Thick, curdy and white like cottage cheese | Yellow, green/grey, frothy or sticky |
| Discomfort | None | Itching,burning sometimes present | Vaginal itching/burning is usually present | Sometimes itching, painful urination |
| Cause | Balance of normal vaginal flora | Bacteria | Yeast (Candida) | Parasite |
| Treatment | None | Metronizadole / Ornidazole, Clindamycin / Probiotics | Fluconazol, Monostat | Nitroimidazole drugs. partner must also be treated |
| Health risks which may be associated with infection | None | Adverse pregnancy outcomes, pelvic inflammatory disease, cervicitis, endometritis, post-operative infection, increased susceptibility to HIV and other STDs | None serious | Adverse pregnancy outcomes, increased susceptibility to HIV and other STDs, Cervical Cancer |
| Sexually transmitted | | Not always | No | Yes |
Consequences
Pregnant women with Bacterial vaginosis are at higher risk of preterm delivery [9-12].
Bacterial vaginosis is a cause of:
Endometrial bacterial colonization [13-15]
Plasma-cell endometritis
Postpartum fever
Post-hysterectomy vaginal cuff cellulitis
Postabortal infection
Bacterial vaginosis is a risk factor for human immunodeficiency virus (HIV) acquisition and transmission [16-18].
Bacterial vaginosis is a risk factor for acquisition of herpes simplex virus type 2 (HSV-2), gonorrhea, and chlamydial infection[19-20].
Although Bacterial vaginosis is more common among women with pelvic inflammatory disease (PID), it is not clearwhether it is a causal factor or an independent risk factor for this disease [21-22].
Bacterial vaginosis is often asymptomatic and is found in up to 20% women during pregnancy depending on how often the population is screened 23. Several studies have shown that vaginal anaerobic flora and Bacterial vaginosis have relation with intrauterine infection, intrauterine foetal growth restriction, premature rupture of membranes, spontaneous abortion and preterm labor 24.
The exact mechanism of Bacterial vaginosis in causing preterm labour is unknown, but it seems that anaerobic vaginal flora such as Bacteroides, Gardnerella vaginalis, Mycoplasma homonis and Peptostreptococcousre replace vaginal aerobic lactobacilli and alter vaginal flora [25,26]. The products of anaerobic bacteria stimulate decidua and cause preterm labor through increase in cytokines, phospholipase A2 and prostaglandin release [27-28]. Protection by peroxides producing lactobacilli may have an important role in preventing ascending infection, prostaglandin release and membrane deficiency [21]. Inflammatory reactions following ascending infection due to Bacterial vaginosis can lead to spontaneous abortion [29].
High rates of preterm delivery, i.e., above 10%, remain prevalent in developing and developed regions around the world; preterm birth is associated with nearly 80% of foetal, neonatal, and infant deaths [30-32]. Approximately 25% of preterm deliveries occur as the result of medical indications, and the remaining cases occur spontaneously 33. Spontaneous preterm deliveries that occur prior to 35 weeks of gestation, and before the 32nd week in particular, have been strongly associated with intrauterine infections, including Bacterial vaginosis[34-35].
Bacterial vaginosis is linked to the increased incidence of spontaneous first and second trimester miscarriage (Hay et al., 1994; Donders et al., 2000b; Larsson et al., 2006; Oakeshott et al., 2002) and reduced baby-take-home-rates in pregnancies obtained through assisted fertilityprocedures like in vitro fertilization.
In in-vitro fertilization procedures, a relation was found between Bacterial vaginosis and implantation failures (Ralph et al., 1999),but this relation was not confirmed in another observation (Liversedge et al., 1999).Furthermore, amongst these patients a clear relation of Bacterial vaginosis with tubal infertility was present,(Liversedge et al., 1999; Wilson et al., 2002) indicating indirectly Bacterial vaginosis is a risk factor for ascending infection and tubal damage. Interestingly, in one study, not Bacterial vaginosis, but decreased lactobacilli (AVF) was found to be the risk factor of implantation failure at IVF (Eckert et al.,2003).
In studies addressing the different subtypes of abnormal vaginal flora, aerobic vaginitis, mixed flora, and partial Bacterial vaginosis show a significant relation with preterm birth alongside Bacterial vaginosis (Donders et al., E pub ahead of print 2010; Donders et al., 2009; Donati et al., 2010).
Finally, also the level of preterm threat may play a crucial role in the efficiency of the Bacterial vaginosis treatment. Women with Bacterial vaginosis who have contractions and other symptoms of preterm labor extend their gestation longer when treated for Bacterial vaginosis than when untreated, whereasasymptomatic women show no difference between treatment versus placebo (Stevens et al, 2004; Briery et al, 2011).
Treatment of Bacterial Vaginosis
Rationale for Treatment
Treatment of Bacterial vaginosis is primarily targeted at resolving or alleviating the presenting symptoms, most commonly profuse, foul smelling vaginal discharge. In the absence of treatment Bacterial vaginosis may resolve spontaneously; however, it often recurs over an extended period of time. As recurrence of Bacterial vaginosis is common, treatment of Bacterial vaginosis is ideally also targeted at prophylaxis of Bacterial vaginosis recurrences. On a secondary level, Bacterial vaginosis treatment aims to prevent infectious complications associated with Bacterial vaginosis, and hence also involves treatment of asymptomatic Bacterial vaginosis.
Due to the poly-microbial nature of Bacterial vaginosis, cure, treatment and control of recurrence are more complex processes than those related to diseases caused by a single infectious agent 36. The evidence that lactobacilli protect against vaginal infections because they produce lactic acid and therefore maintain a pH higher than 4.0-4-5 have been established long ago. Furthermore, lactobacilli inhibit the growth of a large number of opportunist vaginal microorganisms, including E.coli, Candida albicans, G.vaginalis, and Mobiluncus spp., because they produce hydrogen peroxide (H2O2), which further decreases vaginal pH, as well as other inhibiting metabolites 37. Moreover, many of the probiotic effects are not related to changes in microbiota only, as indicated by cultures.
Actually, an important part of the beneficial effects of probiotics is related to its immunomodulating effects: increase in immunologic activity as well as of anti-inflammatory activity 38.
Lactobacilli and bifidobacteriae are, in principle, considered to be safe because they are components of the comensal human flora and due to the fact that they have been used for a long time in food industry and in douches, even by pregnant women, without harmful effects[39-41].
Definition of Cure
In clinical practice, cure of Bacterial vaginosis will therefore typically be considered a fact if a patient reports the resolution of the symptoms for which therapy was instigated on the occasion of a control visit. Contrary to this symptomatic approach, a more objective manner of establishing cure is to make a reassessment by use of the Amsel'scriteria 42 or Nugent's criteria.43
At present, the sole guideline on the assessment of cure following treatment of Bacterial vaginosis comes from a draft guidance document that was launched by the US FDA.44According to this guidance, cure is defined as the absence of all four Amsel'ssigns and a Nugent score of less than 4 at a test-of-cure visit 21–30 days after the first day of treatment.
Bacterial vaginosis Recurrence
It remains unclear at present whether Bacterial vaginosis recurrence reflects resistance, recurrence and/or reinfection.45 Recent studies indicated, for instance, that the presence of A. vaginae with Bacterial vaginosis is an indicator of treatment failure,46 as well as indicator of Bacterial vaginosis recurrence.47
Based on number of observations, the prevailing hypothesis is that recuperation of a stable Lactobacillus microbiota following treatment is crucial to the longterm outcome of Bacterial vaginosis treatment.
A basic component of the healthy vaginal ecosystem is the maintenance of an acidic vaginal environment at an average pH of 4 ± 0.5 – inhospitable to most bacteria and viruses.Alkalinization of the vaginal milieu as induced, for example, by menses or sperm leads to decreased epithelial adherence of the lactobacilli and gives a free rein to the overgrowth of typical Bacterial vaginosis-associated microorganisms. From this perspective, it has been postulated that actively acidifying the vagina with naturally occurring acids like lactate or buffering the vagina against alkalic exposures may enhance lactobacillary colonization and prevent anaerobic overgrowth.
However, in recent clinical trials, the acidifying approach did not unequivocally prove effective. In a placebo-controlled randomized study by Holley et al., a 0.92% acetic acid-based gel applied twice daily for 7 days was not superior to a placebo gel in the cure of vaginosis.48 In another study, the acid-buffering ACIDFORM gel was also significantly less effective than a 10% metronidazole gel.49
Probiotics
Several bacterial species are known to colonize both the gastrointestinal and the reproductive tract, and the rectum has been suggested to play an important role as a source or reservoir for organisms that colonize the vagina[15,29].
The estimated number of microbial species inhabiting the vagina is 50, compared to approximately 800 species in the intestinal tract. The vaginal microflora of healthy premenopausal women is gener­ally dominated by Lactobacillus species.
Lactobacilli in the vagina have been associated with the following protective roles against uropathogens (including those associated with BV):
They produce acids, mainly lactic acid
They produce Hydrogen peroxide (H2O2), which release Oxygen and has a disinfecting effect
Bacteriocins inhibit the growth of pathogens which are always present in the vagina.
They produce biosurfactants, which cover the surface of the vaginal wall, thereby inhibiting the adhesion of pathogens
They produce co-aggregation molecules which block the spread of pathogens
A recent in vitro study found that L. rhamnosus and L. reuteri are able to incorporate themselves into the biofilms created by G. vaginalis and A. vaginae cause disruption of the biofilm and even some killing of the bacteria.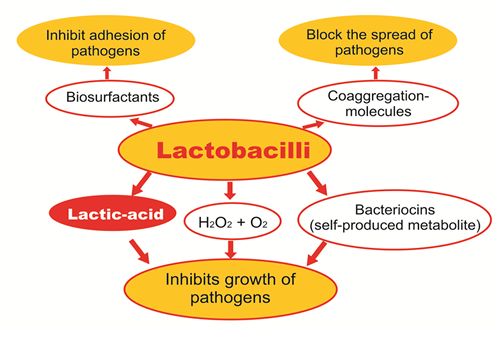 Protective vaginal bio-system
Several clinical trials to date have been completed to study the effects of various strains of lactobacilli to colonize the vaginas of women with symptomatic or as­ymptomatic BV, to reduce colonization of pathogens, and to improve symptoms and/or signs of BV when they are present. Canadian researchers Gregor Reid and colleagues found that oral administration of probiotics to 64 healthy women (ages 19-46 years) for 60 days resulted in a significant increase in vaginal lactobacilli at day 60 compared to a group taking placebo (P = 0.05), as well as a reduction in yeast and coliforms in the probiotic group. A follow-up study found that oral delivery of probiotics was not only effective in colonizing the intestinal tract (based on fecal analysis) of healthy women but also the vagina.
Women being treated for BV with antimicrobial ther­apy should be educated about the potential benefits of adjunctive use of specific probiotic strains to potentially improve treatment outcomes, prevent recurrence, and re-establish healthy vaginal flora. Preliminary data suggests that longer-term ingestion may be more effective than short-term ingestion and may point to the need for women with a history of recurrence to consider ongoing use of probiotics.
In a trial of 125 premenopausal women with BV who were first treated with metronidazole followed by oral Lactobacillus for one month, an 88% cure rate was seen compared to 40% in the antibiotic treatment group.50
A multispecies probiotic combination is more effective at inhibiting pathogenic bacterial growth than is each species alone. They are more effective than mono, bi and multistrain (of the same species) preparations. For example, Streptococcus thermophilus may synergistically facilitate the growth of other probiotics because it is an oxygen scavenger and may help create the anaerobic conditions in which strict anaerobes, such as Bifidobacterium spp. thrive. Lactobacillus species replicate well in the small intestines at the prevalent pH of 6-7. As the Lactobacilli multiply, they produce lactate and other organic acids that lower ambient pH enabling the growth of probiotics requiring lower ambient pH.
A wide range of dosages for Lactobacilli spp and other probiotics have been studied in clinical trials ranging from 100 million to 1.8 trillion cfus per day. Most studies, examined dosages in the range of 1 to 20 billion cfus per day. Generally higher dosages of probiotics ie 5 to 10 billion cfus per day for children and from 10 to 20 billion cfus per day for adults were associated with a more significant study outcome. 51 A daily dose of 10 billion cfu is beneficial in BV 52 .
REFERENCES
Hawes SE, Hillier SL, Benedetti J, et al. Hydrogen peroxide-producinglactobacilli and acquisition of vaginal infections. J Infect Dis1996;174:1053–63.
Boskey ER, Telsch KM, Whaley KJ, et al. Acid production by vaginal flora invitro is consistent with the rate and extent of vaginal acidification. Infect Immun1999;67:5170–5.
McClean NW, McGroarty JA. Growth inhibition of metronidazole-susceptibleandmetronidazole-resistant strains of Gardnerellavaginalis by lactobacilli invitro.Appl Environ Microbiol. 1996;62:1089–92.
Andreu A, Stapleton AE, Fennell CL, et al. Hemagglutination, adherence, and surface properties of vaginal Lactobacillus species. J Infect Dis1995;171:1237–43.
Patterson JL, Stull-Lane A, Girerd PH, Jefferson KK. Analysis of adherence, biofilm formation and cytotoxicity suggests a greater virulence potential of Gardnerellavaginalis relative to other bacterial-vaginosis-associated anaerobes. Microbiology 2010; 156:392.
Swidsinski A, Mendling W, Loening-Baucke V, et al. Adherent biofilms in bacterial vaginosis. ObstetGynecol 2005; 106:1013.
Verstraelen H, Swidsinski A. The biofilm in bacterial vaginosis: implications for epidemiology, diagnosis and treatment. CurrOpin Infect Dis 2013; 26:86.
Marrazzo JM, Wiesenfeld HC, Murray PJ, et al. Risk factors for cervicitis among women with bacterial vaginosis. J Infect Dis 2006; 193:617.
Klebanoff MA, Hillier SL, Nugent RP, et al. Is bacterial vaginosis a stronger risk factor for preterm birth when it isdiagnosed earlier in gestation? Am J Obstet Gynecol 2005; 192:470.
Eschenbach DA. Bacterial vaginosis: emphasis on upper genital tract complications. ObstetGynecolClin NorthAm 1989; 16:593.
Flynn CA, Helwig AL, Meurer LN. Bacterial vaginosis in pregnancy and the risk of prematurity: a meta-analysis. JFamPract 1999; 48:885.
Hauth JC, Macpherson C, Carey JC, et al. Early pregnancy threshold vaginal pH and Gram stain scores predictiveof subsequent preterm birth in asymptomatic women. Am J ObstetGynecol 2003; 188:831.
Andrews WW, Hauth JC, Cliver SP, et al. Association of asymptomatic bacterial vaginosis with endometrialmicrobial colonization and plasma cell endometritis in non pregnant women. Am J ObstetGynecol 2006; 195:1611.
Oleen-Burkey MA, Hillier SL. Pregnancy complications associated with bacterial vaginosis and their estimatedcosts. Infect Dis ObstetGynecol 1995; 3:149.
MacDermott RI. Bacterial vaginosis. Br J ObstetGynaecol 1995; 102:92.
Martin HL, Richardson BA, Nyange PM, et al. Vaginal lactobacilli, microbial flora, and risk of humanimmunodeficiency virus type 1 and sexually transmitted disease acquisition.
J.Infect. Dis 1999; 180:1863.
Myer L, Denny L, Telerant R, et al. Bacterial vaginosis and susceptibility to HIV infection in South African women:a nested case-control study. J Infect Dis 2005; 192:1372.
Cohen CR, Lingappa JR, Baeten JM, et al. Bacterial vaginosis associated with increased risk of female-to-maleHIV-1 transmission: a prospective cohort analysis among African couples. PLoS Med 2012; 9:e1001251.
Cherpes TL, Meyn LA, Krohn MA, et al. Association between acquisition of herpes simplex virus type 2 in womenand bacterial vaginosis. Clin Infect Dis 2003; 37:319.
Wiesenfeld HC, Hillier SL, Krohn MA, et al. Bacterial vaginosis is a strong predictor of Neisseria gonorrhoeaeandChlamydia trachomatis infection. Clin Infect Dis 2003; 36:663.
Taylor BD, Darville T, Haggerty CL. Does bacterial vaginosis cause pelvic inflammatory disease? Sex Transm Dis2013; 40:117.
Ness RB, Hillier SL, Kip KE, et al. Bacterial vaginosis and risk of pelvic inflammatory disease. ObstetGynecol 2004; 104:761.
McDonald H.M., O'Loughlin J.A., Vigneswaran R., Jolley P.T., Harvey J.A., Bof A., et al. Br. J. Obstet. Gynecol., (1997) 104, 1391-7.
Gravett M.G., Hitti J., Hess D.L., Eschenbach D.A. Am. J. Obstet. Gynecol., (2000) 182, 1404-13.
Hillier S.L. Am. J. Obstet. Gynecol., (1993) 169, 455-9.
Shanon H. Am. J. Obstet. Gynecol., (1993) 165, 1240-4.
Lamont R.F., Anthony F., Myatt L., Booth L., Furr P.M., Taylor-Robinson D. (1090) Am. J. Obstet. Gynecol., 162, 819-25.
Donders G.G., Van Bulck B., Caudron J., Londers L., Vereeck-en A., Spitz B. Am. J. Obstet. Gynecol., (2000) 183., 431-7.
Joesoef M.R., Hillier S.L., Wiknjosastro G., Sumampouw H., Linnan M., Norojono W., Idajadi A., Utomo B. Am. J. Obstet. Gynecol., (1995)173(5), 1527-31.
Agency for Healthcare Research and Quality: Management of pretermlabor. Evidence report/technology assessment n. 18, AHRQ public n. 01-E0212000.
Leal MC, Gama SGN, Campos MR: Fatoresassociados à morbi-mortalidadeperinatal emumaamostra de maternidadespúblicas e privadasdomunicípio do Rio de Janeiro, 1999-2001. Cadernos de SaúdePública 2004,20(Supl 1):S20-S33.
Campos MR, Leal MC, Souza PR Jr, Cunha CB: Consistência entre fontesdedados e confiabilidade inter-observador do estudo da morbimortalidade e atençãoperi e neonatal no município do Rio de Janeiro.Cadernos de SaúdePública 2004, 20(Supl 1):S34-S43.
Berkowitz GS, Prince CB, Lapinski RH: Risk factors for preterm birthsubtypes. Epidemiology 1998, 9(3):279-285.
Goldenberg RL, Andrews WW, Hauth JC: Choriodecidual infection andpreterm birth. Nutrition Reviews 2002, 60(5):S19-S25.
Romero R, Espinoza J, Chaiworapongsa T, Kalache K: Infections andprematurity and t he role of preventive strategies. SeminNeonatol 2002,7:259-274.
Famularo G, Pieluigi M, Coccia R, Mastroiacovo P, De Simone C:Microecology, bacterial vaginosis and probiotics: perspectives forbacteriotherapy. Med Hypotheses 2001, 56(4):421-30.
Cauci S, McGregor J, Thorsen P, Grove J, Guaschino S: Combination ofvaginal pH with vaginal sialidase and prolidase activities for predictionof low birth weight and preterm birth. Am J ObstetGynecol 2005,192:489-96.
Isolauri E, Salminen S, Ouwehand AC: Microbial-gut interactions inhealth and disease. Probiotics. Best Pract Res ClinGastroenterol 2004,18(2):299-313.
Vrese M, Schrezenmeir J: Probiotics and non-intestinal infectiousconditions. Br J Nutr 2002, 88(Suppl 1):S59-S66.
Food and Agriculture Organization (FAO) of the United Nations and WorldHealth Organization (WHO): Guidelines for the evaluation of probioticsin food report of a joint fao/who working group on drafting guidelinesfor the evaluation of probiotics in food. London Ontario; 2002.
Reid G: The scientific basis for probiotic strains of Lactobacillus. ApplEnviron Microbiol 1999, 65(9):3763-6.
Amsel R, Totten PA, Spiegel CA, Chen KC, Eschenbach D, Holmes KK. Nonspecific vaginitis. Diagnostic criteria and microbial and epidemiologic associations. Am. J. Med. 74(1), 14–22 (1983).
Nugent RP, Krohn MA, Hillier SL. Reliability of diagnosing bacterial vaginosis is improved by a standardized method of gram stain interpretation. J. Clin. Microbiol. 29(2), 297–301 (1991).
US Department of Health and Human Services, Food and Drug Administration (FDA), Center for Drug Evaluation and Research (CDER). Guidance for industry: bacterial vaginosis-developing antimicrobial drugs for treatment.Draft guidance (1998).
Eschenbach DA. Bacterial vaginosis: resistance, recurrence, and/or reinfection? Clin. Infect. Dis. 44(2), 220–221 (2007).
Ferris MJ, Norori J, Zozaya-Hinchliffe M, Martin DH. Cultivation-independent analysis of changes in bacterial vaginosis flora following metronidazole treatment.J. Clin. Microbiol. 45(3), 1016–1018 (2007).
Bradshaw CS, Morton AN, Hocking J et al. High recurrence rates of bacterial vaginosis over the course of 12 months after oral metronidazole therapy and factors associated with recurrence. J. Infect. Dis. 193(11), 1478–1486 (2006).
Holley RL, Richter HE, Varner RE, Pair L, Schwebke JR. A randomized, double-blind clinical trial of vaginal acidification versus placebo for the treatment of symptomatic bacterial vaginosis. Sex Transm. Dis. 31(4), 236–238 (2004).
Simoes JA, Bahamondes LG, Camargo RP et al. A pilot clinical trial comparing an acid- buffering formulation (ACIDFORM gel) with metronidazole gel for the treatment of symptomatic bacterial vaginosis.Br. J. Clin. Pharmacol. 61(2), 211–217 (2006).
Bacterial Vaginosis, Inverness Medical International, July 2009
Benjamin Kligler, Andreas Cohrssen: Probiotics. Am. Fam. Physician 2008; 78(9):1072- 1078
Tannis, Allison; Probiotic Rescue 2008: Pg 121